Nashville's Rayna James Wardrobe Trend Explosion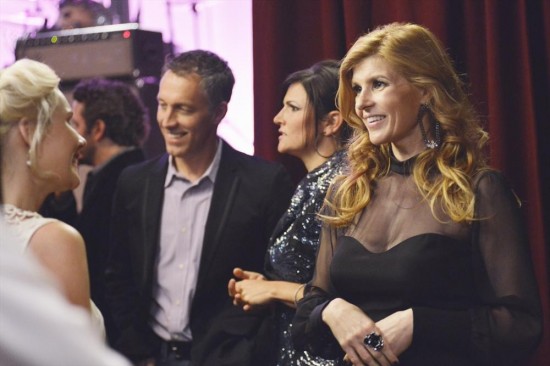 In episode 19 of ABC's country music drama "Nashville" star Rayna James wears a top that has a mash up of several fashion trends. The garment has sheer elements, a sweetheart neckline, a mock turtleneck, and poet blouse sleeves… and we can't even see the whole thing! It's look okay in the music superstar context, but for we mere mortals all those trends in one look is generally too much. Here are a few tops that interpret these trends in a more streamlined fashion. There's something here for glam, romantic, classic, and androgynous style palettes alike!
I really loved the duet Rayna and Deacon sang toward the end of the episode. According to smallscreenscoop.com, the song is called "End of the Day." It's not yet a part of the show's soundtrack, as published on Spotify, but I hope it appears soon! The show is on a roll, turning out some genuinely good music, performed by the actors themselves. Other favorites from this season include "Undermine" – an original performed by Hayden Panetierre; "Ho Hey" – a Lumineers cover performed by the Stella sisters; "Fade Into You" – an original performed by Clare Bowen & Sam Palladio.