The Noisettes have lost 'contact' with this wild, young heart.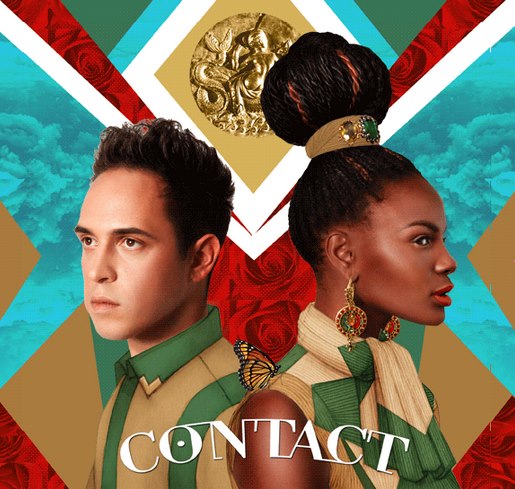 I (try to) respect an artist's right and will to evolve, so I can't be mad at how my former favorite band has developed into a polished pop thing, while they won my love with their garage grittiness. I'm not mad, but I'm also not buying it. I was hoping the follow up to one of my all-time favorite albums was just glitch in the timeline. I thought maybe Wild Young Hearts was simply the product of the dreaded "sophomore curse" mixed with the inevitable drag of big record business. So when I heard that the Noisettes' third release was coming up I was still optimistic and ready to open my wallet and my heart to the new collection of music.
But then the band (or label or mgmt or whomever) decided it would be a good idea to stream the entire album on YouTube. Not just previews and not just a song or two – the whole thing. Turns out that good idea was actually a very bad idea. With WYH, the leading single made me nervous with it's pop-infused pop poppiness, but I assumed there would be better offerings in the mix so I bought it anyway and got 9 more disappointments for my time and trouble. So now that I've heard all of the new album, Contact, there are no maybes to look forward to and my heart and handbag remain closed.
Moments of redemption on the new album include the hauntingly sweet "Travelling Light" and down-homey "Ragtop Car" – both of which have some of the most restrained production on the album. In fact, there are other moments in which I can still here the good stuff coming through (Shoniwa's voice is undeniable no matter what she sings), but then it gets blasted by a can-flavored, movie-themed guitar solo or some other over-produced nonsense. But even these two redemption songs, though pleasant, don't beg to be played again and again and again and again as I did with What's the Time Mr. Wolf or even lesser albums by lesser artists. It might be that I'm being a little extra hard on them, though. It's just that I love the old music so much. I guess I should never have built that indie rock pedestal.
According to an interview the band did a few years ago WtTMW? possesses such raw perfection by accident. "It's just that the first one had fewer instruments and we produced it ourselves," says frontwoman Shingai Shoniwa. Clearly, less is a shit-ton more. These new songs, with their additional instruments and lala-land producers sound like songs the group should be writing for Katy Perry are some such person.
Shingai can't be blamed for defending herself and her band against charges of selling out, but it just can't be denied that the group's new status as members of the musical mainstream has influenced their style – and it's not just a matter of having access to slicker studios. After all, as of right now one of the tracks on the YouTube stream is being blocked by AbsoluteAMD for copyright infringement… which means that on the band's official channel some jackass publisher (or whatever) is blocking a song? Now if that's not music biz bullshit I don't know what is. It seems impossible that the phlebotomizing effect of these big labels hasn't tainted that pure and powerful audio genius of which the Noisettes are capable.
I still think the two musicians at the core of this group are amazing, and the new sound might be authentic to who they are now. Unfortunately though, it's conspicuously out of contact with whatever made their first full length so delectable. It pains me to realize I'm not a "fan" anymore, but hey – we'll always have "IWE."

Images via the group's Facebook page.
One Response to "The Noisettes have lost 'contact' with this wild, young heart."