Beyonce Runs the World in McQueen's Final Collection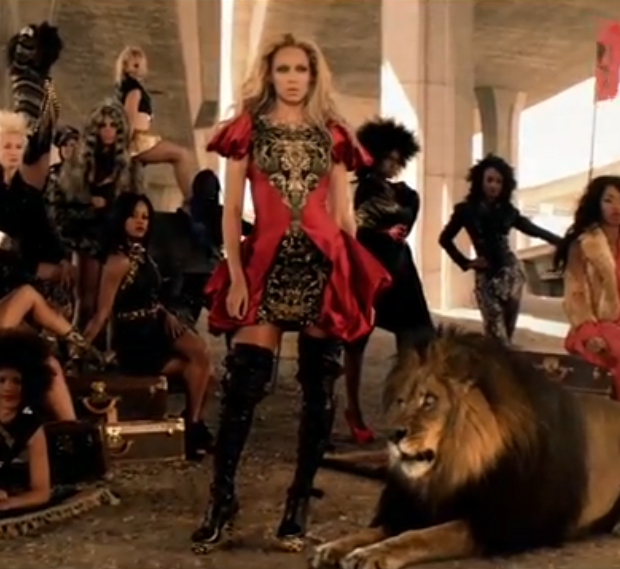 Beyonce plays the role of Lady in Red, complete with Sphinx at her side in her new video "Run the World (Girls)" – a single from her fourth solo album. As is often the case, E.J. finds the must to be a bit of a yawner, but my interest was piqued, at least, by the glimpse of McQueen shown early in the video.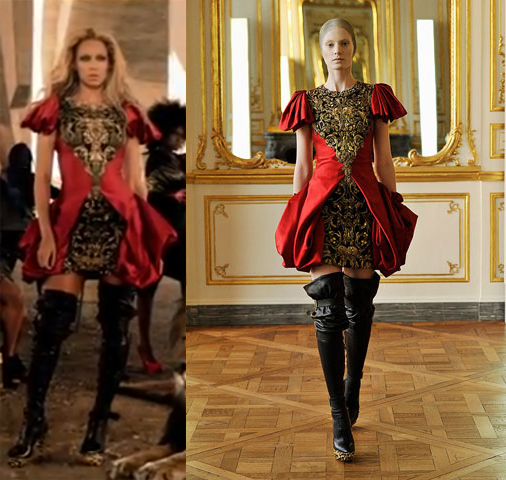 The red and gold ensemble is from the epic final collection of the late Alexander McQueen (Fall/Winter 2010), who has capture the imaginations of fashion followers around the globe. Video stylists didn't even bother to vary the footwear in the look, which seems to indicate either homage to the late designer (whose suicide has been grotesquely glamourized) or perhaps a bend toward some unspoken protocol.
At any rate, the video shines most for it's dance. Beyonce dazzles, as usual, keeping up with sneakered men in heels and full pop star garb. There's an apocolyptic tone to the video too, which is perhaps appropriate to the theme: the notion of girls running the world is, for sure, revolutionary. It's one that would require the collapse of the current patriarch.
And about that sphinx lion…
I also find the YouTube comments on the video to be nearly as entertaining as the video. And I didn't even have to dig.
yoo the ONLY reason i watchh this is for the dudes dancin in the beginning…. on point maan
– theoneandonly778

You can not compare to she with other artist, much less with Lady Gaga. She loves to mix music and she is seeking to vary their style and there is nothing better on a artist. There is a difference between artists who make hits and the artists who make classics. Bey is a legend, sixteen Grammys, only that. Guess who is back… the Queen, Beyoncé.

Con 16 Grammys no hay dudas <3 - hypnotickaa ILLUMINATI CUNT! - ElSanti0
One Response to "Beyonce Runs the World in McQueen's Final Collection"